Every year we love carnival! Last year we celebrated with a theme based upon:
The theme linked so well with our Y3 focus on animals and teachers found ways to create masks, perform dances linked to the music and to investigate Art and DT - all based on this theme.Truthfully this was a theme and a focus that whole schools took as an opportunity to use as creative shared learning across Music,Dance.Art,DT and Language Learning
We were able too to look at nouns in the singular and plural , to investigate unfamiliar animal nouns using bi-lingual dictionaries and to generate simple question and answer role-plays about animals and descriptions of animals: "What is it? What colour is it? how many can you see? Do you like.....? "
(Teachers decided upon the most appropriate questions and answers for their learners and the prior knowledge of the learners).
i knew about this book "Au carnaval des animaux" by Marianne Dubuc based upon the music by Saint saens and so as a carnival activity, mask making and fancy dress followed quite easily.The book is available in several languages.
We used the book in French and Spanish:
The blog link here gives you a flavour of the book in French Litterature de jeunesse .Simple repetitive story which allows the children to invent their own animal characters. We used simple cut out cards such as these below, to create our own fantastical fancy dress animal costumes and the cards where ideal for simple "Guess who I am ?" games- where one child holds a card and the other children /or another child has to guess which animals are on the card the first child is holding.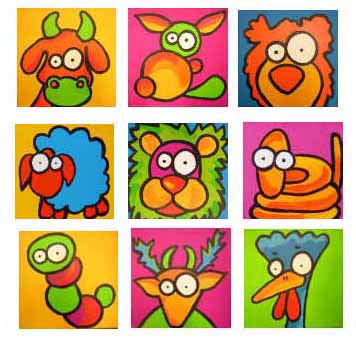 Leads to the children being able to make up the most amazing animal names - combining all the names of the animals they have know in one fancy dress mixed up animal written or spoken description.
And hot off the press just found this brilliant primary unit of work guide for a whole unit of work based around la danse des animaux- useful if you are a French speaker!
And don't forget the possibilities of a wonderful dance to this famous song! Le livre de la jungle!
Here are some ways that we have in the past developed very simple beginners language learning based on carnival celebrations and the story of au carnaval des animaux